Fashion
Jump to navigation
Jump to search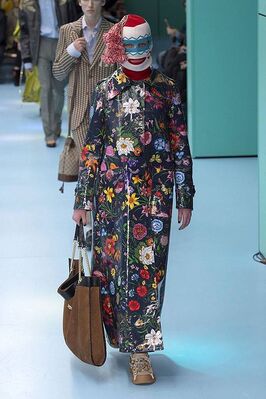 Fashion is the process of raising one's SMV, or otherwise entertaining others, by buying clothes, clothing accessories and by grooming. Fashion is an unpopular topic in the incelosphere. The sexual attractiveness of certain clothing is likely near completely relative to culture, year, race, religion, social status, geography, skin color, nationality, etc, but there remain some universal aesthetic factors, such as not wearing a shirt made of dried maggots or poop.
The sheer amount of factors involved makes most unsourced commentary on clothing more often a reflection of author bias than anything else. Even academic attempts at studying fashion suffer replication issues for this reason.
Semiotics is a pretentious word for the study of how symbols and signs are interpreted. The traits that clothing attempts to signal may be universally sexually attractive, but different social circles interpret and accept clothing differently. Therefore, semiotics may have more to say about fashion than trying to find universally attractive clothing.
Expensive looking clothing signals wealth and attractive clothing is often associated with high cost-of-purchase. What is considered acceptable expensive looking clothing differs by social circle. Certain clothing and fabrics are more often worn by people of a certain age and hence may signal social maturity. Other types of brands and fabrics denote high-status. However, if you are not high-status and you wear very high-status clothing for sexually strategic reasons, your strategy may backfire. For example, wearing a tuxedo to a punk rock show. Certain types of ornamentation signals religious belief or cultural heritage. Certain torso clothing signals personality and values.
Buttoned shirts, collared shirts, and pocketed shirts signal authority or prestige in Westernized countries. Suits signal wealth, business-acumen, and dominance in most countries nowadays.
A study done on fashionability of clothing color combinations showed that, in 2014, moderately color-matched clothing was more fashionable than highly color-matched or low color-matched clothing.[1]
Pink or pastel clothing may be perceived as feminine in the West in the late 20th and 21st century.
Certain psychologists and studies have concluded that the color red is particularly sexually attractive to both genders.[2] These studies were plagued by low-sample size and also alleged bias. A 2016 study by Roberts and Pollet,[3] and a 2017 study by Calin-Jageman and Lehmann failed to replicate the earlier flawed studies.[4] The Jageman and Lehman study for example concluded that women have a slight aversion to red clothing on men, and that men do have a slight attraction to red clothing on women, but it is minimal.[5]
Another study concluded that red clothing is attractive to women, but only women with feminine characteristics.[6].
Anecdotally, and if one were to take pop culture as a guide, women in the USA generally prefer men that do not have tons of body hair. This almost certainly varies by culture to an extent.
A study done on "Preference for human male body hair changes across the menstrual cycle and menopause" examined the effect of male torso hairiness on Finnish women's attractiveness ratings by presenting pictures of male torsos before and after the removal of body hair. The study found that the women's preferences correlated strongly with the hairiness of their current partners, suggesting that body hair may play a role in actual mate choice.
The results of the study also found that when the women's fertility was highest, they preferred males with less body hair and that postmenopausal women demonstrated stronger preferences relating to male body hair than did premenopausal women. The study suggests that in the fertile period of their cycle, Finnish women prefer more the trait that is the current Western ideal (the study was done in the year 2010) of male beauty (hairlessness) than the trait that is traditionally (albeit incorrectly) seen as a symbol of high testosterone levels and masculinity.
Thus, the phase of the menstrual cycle may affect the strength and direction of female preference even for traits that are not "good genes" indicators and whose preference may be culturally based. Interestingly, the hairiness of the women's fathers correlated positively with that of their current mates. This suggests that women's preferences as to male hairiness may be partly the result of sexual imprinting on paternal body hair and/or that this preference is heritable.[7]
A study on human Physique and Sexual Attractiveness in men and women in New Zealand and United States found that in both countries, the image lacking any trunk hair was rated as the most attractive, with a steady decline in attractiveness as hirsutism became more pronounced. amount and distribution of masculine trunk hair (chest and abdominal) was altered progressively in a series of front-posed male figures.[8]
The results of beard studies are mixed, as there is no empirical facial hair style that is most attractive. The only conclusions for facial hair one can draw from beard studies are that any facial hair is more attractive than no facial hair and full- heavy beards are most attractive to women looking for a long term relationship.[9][10][11][12]
Hygiene matters a lot to women as well. For example, a hypothetical person whose clothes smell of pine was rated as relatively more successful, intelligent, sociable, sanitary, and generally attractive than one whose clothes smelled of lemon, onion, or smoke. Sex differences, as well as differences between people who reported smelling their own laundry, were also found.[13]
A study done in Korea on men's fashion examined the differences in impression formation according to accessories and hairstyles, and investigated the relation between men's appearance and occupation, as well as attractiveness inferences. The subjects were 320 female university students residing in the Seoul metropolitan area.[14] The study determined a sporty (spiky) hairstyle to be more attractive than a classic (swept back/wavy,comb-over) hairstyle, a red tie to be more attractive than both a blue tie and no tie, and metal rimmed glasses to be more attractive than no glasses. Anecdotally, mixing styles seems to result in less fashionability, for example, a spiky hairstyle does not seem to mesh well with regal attire also a swept back/wavy,comb-over hairstyle as well as glasses and or a tie do not seem to mesh well when one is wearing athletic attire such as a varstiy lettermans jacket.