Decile
Jump to navigation
Jump to search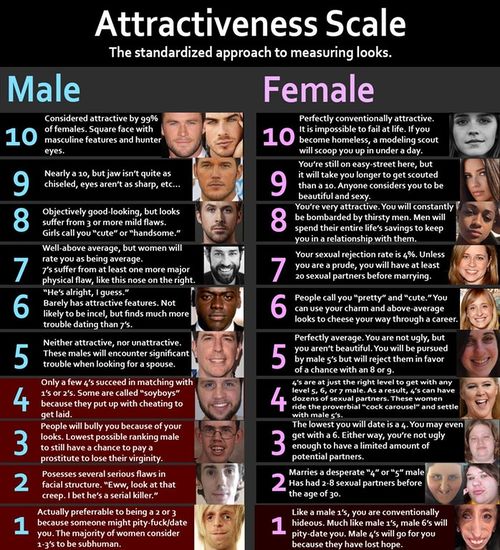 The decile scale is a scale almost everyone uses to rank looks. The decile scale goes from 1 to 10.
It's not a "crazy incel invention" as scales for rating attractiveness have been around for at least a century[1] and calling someone a "nine" or "ten" is extremely common lingo.[2] The decile scale was popularized by the shitty film "10" in 1979[3] and by the rating website "Hot or Not" in the 2000s.[4]
In common usage, the decile scale is only about looks as people care the most about looks in a potential partner at first[5] Even though looks are at most only weakly related to other desirable traits.[6]
The person(s) with the highest SMV are the 10th decilers: gigachad (male) and gigastacy (female).
People often disagree on whether someone is a 5 or a 7, but they agree more about who is a truecel.[7] Nonetheless, a 5 will always be in the 5th decile when averaging many ratings.
Another scale is the PSL rating scale which goes from 1-8. To find out your position on the PSL scale, deduct 2 points from the rating you recieved on the much more common decile scale. The idea behind it is that a man's position on the PSL scale directly correlates with how women perceive him. In the statistics released by the dating site OkCupid, men received much more harsh ratings (81% percent of them being rated as below average looking) by women than vice versa. Thus a male 7 will not actually be considered on par with female 7 in terms of their SMV, but will instead be perceived as a 5. Observable reality shows that it is increasingly uncommon for women to date their looks match or to be the more attractive one in the couple.