Physiognomy
Jump to navigation
Jump to search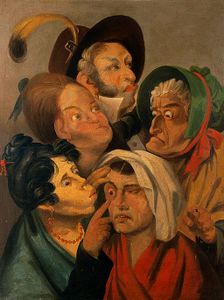 Physiognomy is the former art and now science of deducing the predominant temper and other characteristic qualities of the mind from the outward appearance, especially from the features of the face, possibly including expression and movement patterns across a brief amount of time.[1] Physiognomy has gotten out of fashion in mainstream scientific study due to its pseudoscientific history. However with the machine learning hype, the field has regained some recognition, e.g. machine learning was used to detect peoples individual's behavioral tendencies via facial analysis, however it remains unclear whether the software can produce above-chance results based on facial or contextual cues.[2]
More tangible results were also found as described below, but none of them have effect sizes large enough that one could assume them to be generally and reliably noticeable. In academic terms none of them have a correlation range of R=0.40+. However, proponents of modern physiognomy argue that making decisions on the basis of even a small correlation is superior than doing so based on no information, and that the chances of making a good prediction increase as certain traits stack on top of each other.
It is argued that since people are generally treated based on how they look, people learn to behave like how they look through social reinforcement, thus creating a feedback loop. This is especially true for people with exotic looks. For example, Anton LaVey, founder of the Satanic Church, always had an extremely evil, unconventionally attractive looking face. Anton (real name Howard) was always treated as being a literal handsome devil. Anton enjoyed this treatment and decided to mold his personality to his looks.[3]
Still, others may not be so accepting of how people treat them based on facial features. A good example is baby-faced men. While they are commonly perceived as more trustworthy and warm, they are also perceived as less competent and dominant. However, there also exists evidence that baby-faced men are more likely to both excel in school and commit crimes as adolescents, in stark contrast to how people generally expect them to behave.[4] This suggests that baby-faced men may be attempting to over-compensate for the infantilizing treatment they often receive from others by attempting to prove their dominance or competence.
Another example would be a pretty boy that may not enjoy being treated as such, thus he may attempt to become more muscular in an attempt to be treated as, or seen to be a gigachad.
In recent years, many studies have concluded that facial features are correlated with perceived and actual personality and character traits. The following is a quick summary of some of these findings:
There is some evidence that a number of physical traits are related to a person's life history strategy (whether someone is adapted to a life-fast die young ecology, or is geared towards greater long term resource acquisition and investment in offspring). This means that these traits may also be somewhat reflective of their personality.
For instance, tattooing is associated with impulsiveness and promiscuity. Heywood et al. (2012) found that tattooing was associated with drug use, promiscuity, and lower SES, despite changes in the societal acceptance of tattooing. Other studies have replicated this finding,[15][16] and also found that body modifications such as piercings are also associated with greater levels of promiscuity, particularly in women.[17] In terms of (largely) unalterable traits, there is some (very tentative) evidence that women with larger breasts are generally more promiscuous, impulsive, and extroverted.[18]
These traits are likely reflective of a fast life history strategy, focused on monopolizing as many mating opportunities as possible (for men), and maximally sexually advertising oneself to desirable mates (for women).
Other bodily traits have been found to be possibly linked to a slower life history. For instance the study previously mentioned suggests that women with smaller breasts may generally be more introverted, chaste and generally exhibit more self-control than larger breasted women. Wiggins et al (1969) found that men who preferred smaller breasts were also generally more restrained, introverted, and less sexually successful.[19] It has been argued that this could be because smaller breasted women may exhibit a slower life history strategy (being less focused on producing attractive ornaments) and men pursuing a similar strategy could be drawn to this through a process of assortative mating (preference for similar traits to oneself in a sexual partner).
A team of Psychologists from the University of Warwick conducted a study which showed downward pointing triangles are perceived as threatening as well as negative faces in a crowd.[20][21] Dr Blagrove says "If we look at cartoon characters, the classic baddie will often be drawn with the evil eyebrows that come to a downward point in the middle. This could go some way to explain why we associate the downward pointing triangle with negative faces. These shapes correspond with our own facial features and we are unconsciously making that link." This explains why the evil eyebrows and pointy chin of a villain make our 'threat' instinct kick in. A cross-sectional study done in 2017 on the Dermatologic Features of Classic Movie Villains shows that the top 10 villains display a significantly higher incidence of dermatologic findings than the top 10 heroes (60% vs 0%), which include alopecia, periorbital, hyperpigmentation, deep rhytides on the face, scars on the face, verruca vulgaris on the face, and rhinophyma.[22] Showing that people readily associate signs of unhealthy and or damaged skin with an evil, villainous nature.
In men a large cut at just the right angle over the face seems to improve attractiveness. Indeed a study done in 2008 by a team of researchers at the University of Liverpool proves that women indeed do find battle scarred men as more attractive for short term relationships. This may be due to women perceiving such men as brave, dominant 'bad boys' moreso than men without facial scarring. Deliberate scarification as a form of signalling bravery and stoicism is indeed common in many non-industrialized cultures around the world, and was also somewhat common among aristocrats in 19th century Germany, where these scars became associated with the aristocratic military caste due to them often being members of university fencing clubs. In this milieu, using face masks was viewed as a sign of timidity and weakness.[23]
Someone's facial appearance plays a large role in how trustworthy they are perceived to be. Attractive people, for instance, are seen as warmer and more trustworthy than unattractive people due to the halo effect. However, attractiveness isn't the only facial characteristic people use to make snap judgement of trustworthiness.
For example, it has been found that wider faced men are seen as less trustworthy, and this means people are less willing to co-operate with them.[24] This type of bias can sometimes result in dire outcomes for men judged as less trustworthy on the basis of their facial appearance. For instance, Wilson & O'Rule (2015) found that men with less trustworthy appearing faces were more likely to receive hard prison sentences and even the death penalty.[25]
DeBruine (2002) found that people also tend to trust those who bear a greater facial resemblance to themselves, possibly due to kin selection based evolutionary mechanisms and perceived relatedness.[26]
Review of some the research on physiognomy:https://www.youtube.com/watch?v=43zciPFbTpc