Apex fallacy
Jump to navigation
Jump to search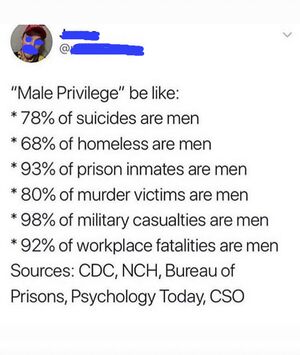 The apex fallacy is when someone erroneously assumes men at the bottom of social stratification are just as privileged as men at the top of social stratification.
The prevalence of the apex fallacy can explain why society lacks empathy for involuntary celibate males. It is often proposed in the incelosphere that this fallacy stems from women's hypergamous nature - they are only capable of viewing the top men as 'men', disregarding the vast amount of men who are discriminated against by a gynocentric society. Since inceldom-experiencers are stereotyped as (a) male, and (b) heterosexual, the MSM views involuntary celibates as inherently privileged, despite the fact that males experiencing inceldom constitute the bottom rung of society.
Nadir fallacy occurs when someone evaluates a group using the worst group members. The prevalence of men (but not women) being judged by their worst individuals is an instance of the women-are-wonderful effect and gynocentrism.
In truth, group means vary more than they differ. Group means are fairly similar but men have higher variability, so their distribution is more dispersed. In terms of power, men have almost the same power and most men and women have a similar amount of power, but men also have more dispersion in power (there are more men with a lot of power and more with practically no power), so men are over-represented near the top and the bottom.
Though since things are only overlapping bell curve distributions, there are of course occasional outliers of women who have it even worse than all men.