Facial masculinity
Jump to navigation
Jump to search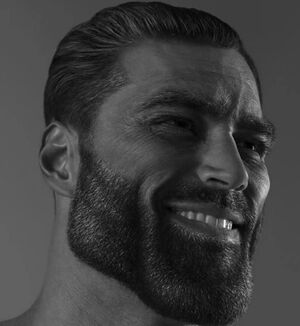 Facial masculinity refers to masculine facial features such as narrower eyes, a broader mandible, chin, forehead and nose, more massive (but not necessarily more protruding) cheekbones, a long lower face height below the nasal region, a more protruded and more robust brow ridge, facial hair, a darker complexion, and the overall maturity of the face.[1] Facial masculinity appears largely determined by the level of pre-natal testosterone exposure, with a second spurt of testosterone during puberty also playing a role in masculinizing men's faces.[2][3]
Although facial masculinity is commonly referred to in the incelosphere (especially among the blackpilled subset of that community) and elsewhere as a significant element of male looks, facial masculinity seems to be mostly unrelated to male's facial attractiveness as rated by women, on a group level at least, with large studies often showing no effects or even an effect in the direction of more feminized male faces being rated by women as being more attractive.[4] However, this may not apply to the extremes.
The link between facial masculinity and overall sexual and reproductive success also seems generally non-existent in modern societies. A meta-analysis of the relationship between various forms of observable masculinity found there was no significant relationship between facial masculinity and sexual success or number of children fathered.[5] Though, this may be affected by certain contextual factors (that will be discussed in the body of the article).
Facial masculinity may have evolved to aid men in competing with and intimidating other men to gain access to females and resources in certain contexts, as it enhances perceptions of aggressiveness and dominance.[6] Partnered men also generally perceive more facially masculine rivals as representing more a potential threat to the stability of their relationships.[7] If such links between physical intimidation and mating success in men exist though, they seem largely limited to bodily cues of physical strength and size rather than facial structure.[5][8]
Facial masculinity is also associated with overall skull robustness.[9] Some of these masculine features may have developed due to historical natural selection pressure on these features among men.[10] In other words, high rates of violence in humanity's past may have selected for men with these traits. These men may have been more likely to survive violent incidents and pass on their genes. Ancestral men appear to have been historically at greater risk of dying from contact violence than women, as is found among certain highly-violent contemporary hunter-gatherer societies.[11][12] In modern societies, men also make up the majority of homicide victims worldwide.[13]
Part of the reason there appears to be no significant group-level associations between greater levels of facial masculinity and sexual and reproductive success is because there seems to be substantial variation in women's preferences for masculine faces. This variation appears to depend on a large variety of individual, societal and sociosexual factors, such as short-term vs long-term mating context, personal preferences, and the resource abundance or scarcity of their environments.
The most common explanation for this is based on evolutionary psychology hypotheses that claim there exists a trade-off between investment potential when women are evaluating male partners, and so-called 'good genes' benefits. This hypothesis predicts that among more promiscuous women, and in short-term mating contexts, women will have a general preference for more masculine male faces. In long-term relationships, women will prefer more feminine looks, as masculine men are said to be both higher in sexual value and more likely to cheat on their partners. There is some supporting evidence for the theory, in that women are using facial masculinity as a cue of potential partner investment, and that this is indeed a somewhat valid cue of males investment potential. Research has found that more masculine faces men are slightly more likely to engage in infidelity and mate poaching behaviors. However, this is barely detectable above chance.[14]
A meta-analysis into the relationship between own-attractiveness and preferences for sexually dimorphic traits in the opposite sex published in the journal Frontiers in Psychology (Chen et al., 2018) provides some more evidence for the trade-off hypothesis. This meta-analysis found that more attractive women seem to prefer more facially masculine men generally. However, it is essential to note that this study conflated self-reported and observer-rated and other more objective measures of physical attractiveness. Further research has demonstrated a link only between female's conceptions of their attractiveness and their preferences for facially masculine males, not their objective attractiveness.[15] The positive association that the authors found between higher levels of female attractiveness and preference for facial masculinity was also weaker than these women's greater preference for masculine voices and bodies.[16] As it stands, if facial masculinity is taken as a significant signal of 'good genes' in itself, the trade-off theory seems to be on shaky ground in terms of empirical evidence, having only very weak evidence supporting it.
Studies generally find much stronger effects for masculinized bodies compared to faces[17][18] and most that do see effects are focused on determining women's preferences when they are at their fertile peak during ovulation, only typically finding effects for hypothetical short-term mating contexts.[19][20] However, this whole line of research into women's preferences in terms of masculinity of men's bodies and faces changing during their menstrual cycle has recently fallen under intense criticism from elements of the academic community, as will be discussed below.
Ovulatory shift hypothesis and dual mating
[
edit
|
edit source
]
The ideal of female trade-offs related to receiving 'good genes' from masculine men and investment from less masculine men is related to the controversial ovulatory shift hypothesis (that women's preferences for overall masculinity and other 'good genes' related traits in potential partners increases over their ovulatory cycle, as they begin to ovulate), resulting in females adopting a strategy of dual mating. The dual mating hypothesis suggests women are adapted to find highly investing partners for long-term relationships, and then opportunistically cuckold these highly supportive, 'beta' partners by sleeping with more masculine men with 'good genes' when they are fertile. Thus, if they manage to pull off this strategy successfully, they 'get their cake and eat it too', as they get investment from the beta and genes from the alpha. This hypothesis is quite popular in the redpill and blackpill communities, where it is commonly known as alphafuxx/betabuxx.
This line of research has been hotly criticized, however, with some researchers suggesting that any effects discovered in these studies may be simply a result of the forced-choice methodologies typically used in this kind of research. This type of research is further confounded by the fact that women have superior facial recognition capabilities in general during the peak fertility period of their menstrual cycle.[21]
Many studies that posit the ovulatory shift hypothesis suffer from other major flaws, such as between-subject designs and the use of self-report questionnaires to measure ovulation.[22][23][24] Self-report methods of assessing ovulation are notoriously inaccurate, only predicting ovulation with less than 30% accuracy when not combined with hormonal tests.[25] Subsequent research that utilized more robust methodologies such as measuring ovulation via hormones combined with correctly powered within-subject designs found no evidence for the ovulatory shift hypothesis with regards to facial masculinity,[26][27][28] in bodily attractiveness[28][29][30] and in voice attractiveness.[31] Despite the bulk of the evidence being against it, the jury seems to be still out on whether there exist shifts in female preferences for body masculinity across their menstrual cycle.[32][33] It may be that any greater female tendency to commit infidelity during the peak of their ovulatory cycle may be simply due to the surge in hormones that occurs during the menstrual cycle serving to boost their libido. As women seem to exhibit a near unipolar preference for more masculine bodies, if increased libido caused by menstrual hormones increases their openness towards casual sex in general, one would also naturally expect them to therefore select for men with more attractive bodies to pursue these sexual encounters with.[34][35][36] In contrast, as women do not seem to exhibit the same strong preference for greater objective male sexual dimorphism in terms of men's facial bone structure, this may explain the inconsistent and very weak research in terms of purported effects discovered for female preferences for facial masculinity shifting throughout their menstrual cycles.
Some critics of ovulatory shift research in general have gone even further, even implying that researchers whose studies find positive effects in terms of fecund women's preference for masculine faces may be engaged in outright scientific fraud. They state that papers that find positive effects for this phenomena typically have closed data (meaning you have to take the paper's authors word for it that their results are valid), and papers that find no significant effects often have open data, meaning their data is released and can thus be double-checked and confirmed by interested peers and non-specialists.[37]
Facial hair and attractiveness
[
edit
|
edit source
]
A paper published in January 2020 set out to examine the effect facial morphology had on attractiveness through multiple variables with a sample (n=919).[38] It found that facial masculinity was positively correlated with attractiveness and that beards significantly increased attractiveness in both short-term and long-term scenarios. Underneath figure 2. of the paper, the authors produce two graphs that compare facial masculinity (independent variable) to mean attractiveness (dependent variable) in short-term and long-term scenarios respectively whilst also comparing full-bearded men to clean-shaven men. It shows that moderately masculine faces were found to be the most attractive, followed by intermediate faces, followed by extremely masculine and moderately feminine faces (roughly the same between these two) and leaving extremely feminine faces to be the least attractive.
It should be noted that full-bearded faces significantly affected attractiveness; so much, so that full-bearded, extremely feminine faces (least attractive) were rated as more attractive than clean-shaven moderately masculine faces (most attractive). It should be noted that the differences in mean attractiveness between extremely feminine faces (least attractive) and moderately masculine faces (most attractive) were less pronounced with full beards than when clean-shaven; this is likely due to the fact that the beards mask the more unattractive qualities of extremely feminine faces. Interestingly, a preference for clean-shaven faces are positively associated with reproduction ambition (desire for pregnancy) in single women and negatively associated with reproductive ambition in partnered women, whereas a preference for beardedness was positively associated reproductive ambition in both single and partnered women. To test for social imprinting of bearded preference during childhood, the authors questioned the women on the status of their father's facial hair when growing up and found that it did not impact their preferences, indicating a possible biological aspect. They also found that preference for facial masculinity was weakest amongst younger women and that it grew with age.
The authors note that their findings on the preference for beardedness in women confirm previous research on this matter (though some research indicates light facial hair is more attractive than full beards and being cleanly shaven).[39][40][41][42][43] Females who scored high on disgust sensitivity (a purported, though unlikely indicator of political conservatism)[44] rated beardedness as more attractive. Beardedness is more easily alterable than facial masculinity as derived from facial bone structure for most men, at least among those who can grow full beards.
Despite the lack of strong evidence for there being a strong female preference for facial masculinity during short-term relationships or otherwise, there is (disputed) evidence that facial masculinity may indeed be weakly linked to overall health and immune system function. This link leads to the argument that women are attracted to testosterone-related traits in men as they 'honestly signal' his immune system's functionality. This feature would have been highly relevant in humanity's evolutionary past due to historically high rates of death from diseases. A longitudinal analysis of public health data found that several markers of immune system function at age 14 was associated with greater facial sexual dimorphism in both sexes in later life.[45] Other studies have also shown that testosterone is directly immunosuppressive, supporting the view that testosterone-related traits may honestly signal the quality of a man's immune system function to some degree.[46]
As it seems the only testosterone-related traits that women exhibit a strong revealed preference for (as measured by studies reporting the association between certain masculine features and lifetime partner count among men) are muscularity, vocal depth, and behavioral dominance, it remains to be seen what role facial masculinity itself plays in signalling good genes. There appears to be no strong general female preference for this trait, and other purported 'good genes' related signals (like bodily masculinity) are preferred in both short and long term partners among women (though to perhaps a greater or lesser degree depending on relationship context), drawing some doubt on the predictions that women don't universally find more masculine faces attractive due to investment-related concerns.
Other explanations for women's variability in preferences for facial masculinity
[
edit
|
edit source
]
It could be that the lack of a strong female preference for facial masculinity could be partly due to other factors. Studies have found that there is only a weak correlation between individual masculine features and total facial masculinity,[47] so it may be that certain masculine traits increase attractiveness and others decrease it. This heterogeneity among individual masculine features would explain both why masculinity is strongly associated with men's physical attractiveness in the public imagination and why there are no strong effects for it on women's judgements of men's attractiveness on the group level. Some evidence of this hypothesis may be provided by the fact that prominent cheekbones, a trait widely considered to be highly attractive, are negatively correlated with global facial masculinity and is also not substantially sexually dimorphic.[48]
It could be that certain masculine features such as broad chins are generally beneficial to attractiveness, and some are beneficial or neutral like a pronounced brow ridge. In contrast, some masculine traits, such as a broad nose, may be generally detrimental to attractiveness. It is also a fact that some traits that are generally considered attractive and popularly associated with masculinity, such as the angularity of the jaw, are only sexually dimorphic to a minor degree.[49] Research into the individual components of facial attractiveness has found that the only aspect of objective masculine dimorphism that is consistently found to be attractive in men is darker coloring, that is, darker hair, brows and an overall ruddy melanized skin complexion (within races).[50] This type of complexion is associated with higher testosterone levels in humans and many other mammals.
Thus, it seems clear that individual elements of facial masculinity affect women's perceptions of men's attractiveness distinctly and that these traits are often not highly correlated with each other. These two facts partially explain the contradictory findings in studies that examine women's preferences for this trait.
Another explanation for the inconsistently regarding women's preferences for sexual dimorphism in male faces is that women's preferences for facial masculinity are affected by environmental contexts, such as disease load and resource abundance/scarcity. In contradiction to what the handicap theory of masculinity would predict (which is that more impoverished women in countries with a higher disease burden would be expected to be more drawn to facially masculine men, due to this being associated with a superior immune function), a team of researchers in 2019 analyzing a cross-cultural sample of female raters found that women in countries with higher human developmental indices had a stronger preference for facially masculine men.[51]
They emphasized that their findings did not support certain predictions of the 'good genes' theory. The authors attributed some of this effect to increased mass media exposure and most of it to women in these more prosperous countries being more sexually liberated and economically secure, thus making them freer to make costly mate-choices.[52] The evidence they cited that more masculine men are generally more sexually successful was very weak, however, and is flatly contradicted by meta-analyses into this subject, noted above in this article, which includes data from Western samples. This study does seem to provide further evidence that promiscuous women tend to prefer masculine men more, though even in the most developed countries a substantial proportion of women preferred more feminized male faces in the 'forced-choice' paradigm used in this study. There was no 'neutral' option for a man with an intermediate degree of facial masculinity, which may be ideal, in accordance with the goldilocks zones principle.
Some of the variability in women's attraction to masculinity may be explained by different genetic dispositions to preferring such features in males. For example, one study found a strongly significant effect for women and girls with a fast life history, i.e. with an earlier pubertal timing and an earlier onset of sexual activity, having a greater preference for masculinity,[53] however, the link is weak and no other study has shown such a link.
Finally, it may be that beauty (which is mostly unrelated to facial masculinity), may moderate the effects of facial masculinity on facial attractiveness ratings. Yang et al. (2015) found that there was a general preference for masculinized faces when comparing two attractive morphs. Still, the results were more mixed when comparing less attractive morphs, with women preferring the androgynous morphs during the low attractiveness condition, as measured by eye fixations and dwell time.[54] It may be that less attractive masculine men are more likely to be perceived as aggressive, arrogant and several other undesirable traits, while more attractive masculine men are not, due to the halo effect. In other words, it could be that ugly and masculine is seen as threatening, and attractive and masculine is perceived as hot and dominant.
Another factor that could've played a role in the evolutionary development of sexually dimorphic facially masculine traits is intrasexual competition or competition between ancestral males for access to women and resources. It could be that morphologically masculine facial features could've developed in men because they are indicative of greater physical prowess (so they are an honest signal of this) in these men, or they could merely serve to intimidate other males without contributing much to men's fighting ability (that is, this trait is a partially deceptive signal). In the cultural milieu in which most modern dating occurs, especially in modern industrialized societies, many would find it doubtful that facial masculinity would play much of a role in mediating male success in dominance competitions. There seems to be limited scope for direct physical confrontations to play a prominent role in determining access to mates due to such factors as the relative efficiency of the modern legal system (at least among adults, where penalties for overtly violent acts are harsher) and the general social undesirability of such actions and the relatively low level of violence in industrialized societies. Other male competitive strategies, such as verbal derogation, displays of physical prowess, resource displays, self-enhancement, and bullying would seem to be more commonly utilized and effective intrasexual competition tactics by males.[55][56]
However, there does seem to be evidence that sheer physical intimidation can play a significant role in driving mating outcomes. This is caused either via indirect female choice for physical dominance, male coercion, women selecting for men of high position in male hierarchies (which is likely influenced by their physical dominance over other men) or male contests effectively limiting each other's access to women (probably a mix of all of these), at least in specific social contexts. In light of the apparent importance of physical dominance in driving men's mating success, it is interesting that the role facial masculinity plays in determining the outcomes of these dominance contests and men's mating outcomes seems limited.
For instance, Hill et al. (2013) attempted to examine the strength of selection on various physically masculine traits (facial masculinity, body size, height, vocal depth) on men's mating attractiveness by reviewing how much they contributed to either female ratings of attractiveness (presumed to be a proxy for direct female sexual selection) or ratings of physical dominance (determined by estimates of fighting ability) and their relative contributions to male mating success (as measured by sexual partner count). They found that of the physical traits listed, only "girth" or a crude measure of raw physical size (exclusive of height) significantly predicted mating success in this sample (of the traits examined), with men's facial masculinity playing no role, either under conditions of presumed female selection (attractiveness ratings) or the conditions of a male physical intrasexual competition (fighting success ratings).[57] Similarly, Kordesmeyer et al. (2018) found that of the physical traits he examined, only those related to success in male-male competition (again as judges by estimates of fighting ability) predicted men's mating success (though relatively weakly).[58] In this study, while the men's facial masculinity was associated with men's evaluations of other men's dominance, it was still ultimately unrelated to the male subject's mating success. These findings concord with extensive research that discovered that male facial masculinity is not significantly related to their lifetime sexual success or fertility, while sheer physical size is, albeit rather weakly when considered on a broad level of a lifespan and in more diverse samples.[5]
Thus, while facial masculinity does appear to be salient to some degree in driving perceptions of physical dominance,[59] it is unclear what role facial masculinity plays in actually intimidating other males. Thus it seems likely that facially masculine sexually dimorphic traits merely evolved to serve as "facial buttressing," with a robust facial structure serving to protect the vital areas of the face,[60] (especially the eyes, as eye structure is quite sexually dimorphic,[61] and the eyes are particularly vulnerable) from blows as men were presumably more likely to die from physical violence throughout their evolutionary history than women. A male sexual preference for physical neoteny in women would also decrease their facial masculinity in the absence of strong selection pressures exerted on them for this trait in terms of viability. It could also be that muscularity is seen as an "offensive" tool in male intrasexual competition, and facial masculinity is seen as a "defensive" tool. That is, muscularity may be much more critical in driving perceptions of threat, which may contribute to dominance perceptions and, therefore, male peer status. At the same time, while facial masculinity does appear to factor into perceptions of overall formidability, it may play much less of a role in actually driving the physical intimidation of other men when compared to sheer size and bulk.