Hunter eyes
Jump to navigation
Jump to search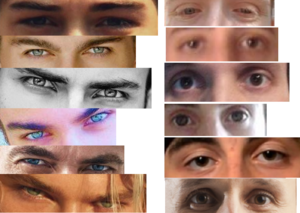 Among the various lookism and blackpill forum users, hunter eyes are considered to be the ideal eyes for men. They are alluring eyes, vertically narrow, deeply set, hooded, with a positive canthal tilt and an interpupil distance (IPD) within the normal range. The hoodedness of these kinds of eyes comes from a combination of a protruding brow ridge, fat tissue above the eyes, and solid 'under-eye' support caused by robust cheekbones and square orbital sockets.
In technical terms, all humans have 'hunter eyes', i.e. forward-facing eyes that allow them to focus on and pursue prey, like what is found among other predatory animals. Hunter eyes are to be compared to the opposite, 'prey eyes', that is, eyes that are located on the skull's side that aids prey animals in spotting potential threats in their peripheral vision. Likely, the term came about because men with such eyes look highly dominant and threatening, with a piercing, predatory gaze. Unlike men with, round, cute looking eyes or 'prey eyes', like women often have, suggesting that hunter eyes may have evolved partially to intimidate other men.
Hunter eyes are a sexually dimorphic trait.[1] Men exposed to more prenatal androgens have smaller, less neoteneous eyeballs. Deep-set hunter eyes may be an evolutionary adaptation for combat, hunting and male intrasexual competition, protecting the eyes from fists, claws, sticks etc. and or/may serve to merely intimidate other males.[2]
Scientifically, it is an open question to which extent hunter eyes are directly attractive to women. This has not been researched. However, their unique nature means that male models often have these eyes. They impart a distinctive look on those that bear them, suggesting they are generally considered to be highly attractive.