Lordosis
Jump to navigation
Jump to search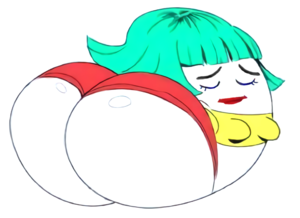 In sexual behavioral biology, mammalian lordosis (Greek lordōsis, from lordos "bent backward") refers to the presentation of the "tail" with upward curved spine to signal receptivity to copulation found in many mammals.[1] Scientists claim human lordosis is only a vestigial remnant of proceptivity-/receptivity-communicative signal between male and female,[2] but eye-tracking reveals the arched back does catch both women's and men's attention,[3] and women perceive the posture as sexual receptivity and perceive it as a threat to their relationship,[4] explaining why women wear high heels as it optimizes the "lordotic" posture.[5][6] Mammalian lordosis may have an even more ancient root in reptile behavior in which the female submits itself to the most dominant male.[7][8] As such, lordosis is a behavioral disposition and reflex representing the quintessence of female submissiveness and passivity.
Yoga seems to be full of postures, such as the Downward Dog Pose, that present the female lordosis posture and the crotch region. Human females appear to have a natural proclivity to present themselves in this manner.

In human evolutionary history they presumably often inappropriately presented their genitals in lordosis posture to obtain resources from males. In times of economic hardship women have been observed to display more lordotic behavior.[9]
Sodomy and homocel hypothesis
[
edit
|
edit source
]
As discussed in the homosexuality article, dominating the female in lordosis posture has been historically used to denigrate males as well, especially in honor-cultures and in prisons. It has been suggested, males can adopt the lordosis posture to get resources from other horny, bisexual males as a last resort (homocel hypothesis). This lead to male lordosis being depicted in satire, e.g. by Charlie Hebdo. Depicting lordotic males has been proven to be very offensive to some.

The curved arch from collarbone to the boobs reminds of the lordosis posture, thus boobs act as a frontal or secondary lordosis. Therefore question 4 in this quiz[10] has no definite answer.