Lips
Jump to navigation
Jump to search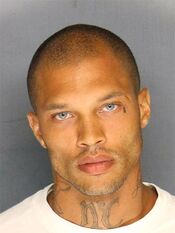 Lips are an important feature of facial aesthetics.
Thin lips are commonly regarded as masculine. However, this is a misconception because males actually don't have thinner lips than females.[1] Males have larger skulls which makes their lips appear thinner. A long chin makes the lips appear thinner as well.
Females have lips that are more plump (anterior projection).[1] Plump lips advertise youth because lips get thinner with age.[2]
Black people have genetically thicker lips. Thick lips are useful in chewing hard foods because they protect the lips from being damaged.[citation needed]
Lips should have a pronounced vermilion border. A pronounced vermilion border indicates lack of orbicularis oris hypertrophy. A correct swallowing pattern helps to prevent this hypertrophy.