Maslow's hierarchy of needs
Jump to navigation
Jump to search
Maslow's hierarchy of needs refers to an idea by U.S. psychologist Abraham H. Maslow who claimed that humans have certain fundamental needs to feel good and that the needs depend on each other, roughly forming a hierarchy. Importantly, the model is not as rigidly as the pyramid suggests, meaning some of the pyramid stages may depend on aspects of the stage above. In truth aspects of the upper stages feed back unto the lower ones. For example higher peer status allows men to get access to more sex.
Replacement with Schwartz Circumplex
[
edit
|
edit source
]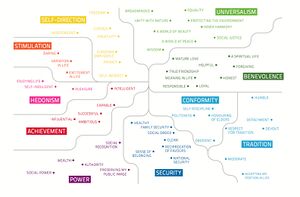 There are others that proposed the Circumplex[1][2][3] model as a replacement of the Maslow's hierarchy. But even in this model, genuine social contact and intimacy acquisition are often a necessary value, as the diametric opposite of those value includes success, ambition, pleasure, acquisition of power, wealth and authority (those that corresponds to Dominance hierarchy). It can be conjectured that Inceldom can lead to violent or even totalitarian instincts (e.g. Ted Kaczynski and Adolf Hitler).
This brings into the question on whether socio-political sedation is an effective treatment against terrorism. Since Escortcel are a problem[4], some scholars recommended "trainer therapist GF" as a solution, however this does not address the willingness of females to go through such policy or program.