Whore
Jump to navigation
Jump to search
Whoring refers to opportunistic female sexual display or behavior, often a mere pretense of sexual willingness, with the intention of near-term resource accrual. The primary motivation for extra-pair mating in human females is, in fact, probably resource accrual (along with mate switching).[1] Research also suggests women sexualize themselves during economic hardship (rather than gender inequality driving such behavior!).[2]
Being cuckolded and investing in someone's else's offspring is a great loss for a male's reproductive success. The cold logic of evolution suggests that hence men should be selected to detest female sexual skittishness, and behavior targeted at paternity assurance is indeed what we see across many cultures.
The male analogue of whoring is the homocel hypothesis, which suggests males can too offer their holes to horny men in order to obtain resources, which may explain in part the evolution of male homosexuality.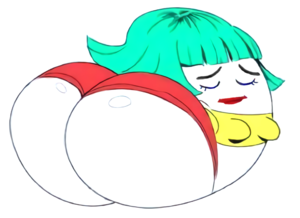 Sex differences in parental investment made human females coy and dependent on male's resources, which in turn caused males to want to scatter their seed wide and far. The sex difference in coyness/promiscuity results in an insatiable male horniness surplus. As women need men's resources to survive, though, and as men's sex drive is bottlenecked by women's sex drive, women can simply signal sexual readiness to manipulate men to give them what they want. Quite frequently, that may have even allowed young, fertile females to ascend to richer demes by flashing their genitals to horny wealthy male bypassers, resulting in such behaviors getting fixed in the gene pool such that we can observe them on /r/gonewild.
Girls may be genetically programmed to whore
[
edit
|
edit source
]
Sneaky politicians often use the issue of self-sexualization of minors in social media as an argument for censorship and surveillance. Though in truth teenagers are highly sexually driven from early on. Girls know instinctively that they can get boys attention by revealing their secondary sexual characteristics to their advantage, and these are the same adaptations they execute in social media. Although this is not really a testable hypothesis, we can find indirect evidence in the high prevalence of such behavior and the historically enormous concern about it, and, as a result in female intrasexual competition in terms of slut-shaming.
This may explain why women in politics fervently fight for legalization of sex work and why highly educated, intelligent women go into pornography. They do what feels natural to them.