Life on tutorial mode
Jump to navigation
Jump to search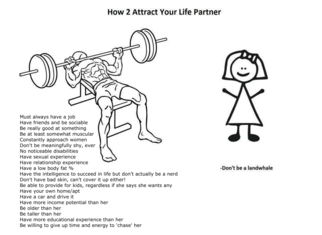 Life on tutorial mode is a meme concerning how easy it is for women to find a partner in the dating scene. It also states that life for most women is extremely easy, mainly in reference to women benefiting from men's tendency to simp towards women in attempt to get sexual access to them, socialization for women being easier due to the women are wonderful effect, women benefiting from affirmative action, and women being coddled in general by men, among other things.
It is inspired by video game difficulty settings, with "tutorial mode" being the lowest, or tutorials being sometimes a pre-stage before the actual game begins, where the player can familiarize himself with game mechanics without the possibility of failure.
The meme implies that while a man is expected to be financially successful, physically fit and sociable to even stand a chance of getting dates, while women, generally being the sexual selectors, are "guaranteed" reproduction and companionship for the mere reason of being born female, and being young. A woman only needs to go on a dating app to have multiple dating options all the time, but it may take years for an average man to even go on a date. Life is therefore claimed to be much easier for most women than it is for most men.
Physically attractive women are likely even more favored, while similarly attractive men may struggle if they limit themselves to their looksmatches. Femcels and feminists typically respond to these claims by stating that women are disfavored in regards to men, or that only physically attractive women benefit from life on "tutorial mode."