I love to travel
Jump to navigation
Jump to search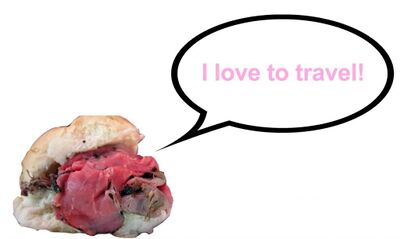 I love to travel is a meme in the incelosphere about Beckys traveling the world, usually under the pretense of gaining "new experiences" and finding their "soulmate". If evolutionary psychology can tell us anything, though, women should be particularly inclined to immediately attach to the next best Chad when surrounded by new males, either when men intrude or the woman gets carried away.[1] Indeed, one observes that women moving to a new place are particularly "easy" possibly due to the new environment and lack of other females who could spoil their fun by gossip. For example freshmen women are particularly easy.[2] But they'll clench up the moment nasty female friendships form. So female traveling in truth amounts to outright Chad sex tourism.
In part, women's fake fascination with traveling can also be explained by their rape fantasies. In the 1970s after their sexual liberation, women engaged in sex tourism through southern Europe and the tropics, e.g. Spain, Ecuador and Barbados only to be practically raped by a bunch of Chad's over the course of several weeks. Women secretly love this kind of threat as a famous feminist Camille Paglia admitted:
Part of the thrill of sex for a woman is the danger of it—the fact that she is risking rape.
There is substantial historical evidence of such "romance tourism" women visiting places such as Indonesia,[3] Greece,[4] Jerusalem,[5][6] Jamaica,[7] Ecuador,[8] Barbados,[9][10][11] Hawaii,[3] only to get rammed by 'beach boys'.[12]
The partners these women engaged with were rather thug Chads than prestigious Chads, generally occupying relatively low socioeconomic status and having little finacial security, yet sociable, confident, physically agile and high status within their trade, e.g. as tour guides.[13] Not rarely, these roaming women themselves provided their partners with financial resources,[14][15][10] to the degree that locals exploited such behavior by specializing on feigning romantic interest.[13]
Stereotypes about such women can be found in Caribbean literature:[16]
The most persistent, stereotypical, and restricted image [in Caribbean literature] is that of the white woman, who is viewed as an eager, lustful, sex-starved nymphomaniac, one whose goal in life is to be desired, seduced, and violated by a black or Indian Buck.
And a Barbadian male wrote about his endeavours seeking to obtain romantic opportunities with such Western travelers:[11]
I was a Barbadian, a man of the tropics, wild, untamed, supple, POTENT—what every northern woman wishes for.
These kind of findings contradict to some extent the more K-selected hypergamy-aspect of female submissiveness that women's sexuality is strictly bound to an exchange of resources and being the receiver of resources, but they do confirm more the more r-selected bodyguard-aspect of female submissiveness in terms of preferring an agile, strong, socially confident partner. It may have also been difficult for such women to get access to financially stable males due to such males typically having better options than engaging with foreigners with unknown sexual and infection histories. Or sex tourism might particularly select for fast-life strategists.
Similar romantic stories and more historical evidence has been covered in various films,[17][18] and books.[19]