Chin
Jump to navigation
Jump to search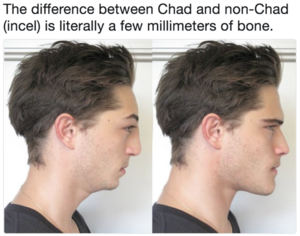 The chin is the protruding part of the mandible. It is unique to humans.
A receding chin could be caused by so called maxillary retrusion. Chincels suffer from this condition.
The opposite of a receding chin is a protruding chin. A notable celebrity with a protruding chin is rapper Lloyd Banks.
One theory is that the chin protects the teeth against falls.
It is possible that the chin evolved to resist lateral-transverse forces during mastication. [1]
Some suggested chincels have evolved such that when he tries to rope it slips right off.
Well-known incel categories