Sexual Marxism
Jump to navigation
Jump to search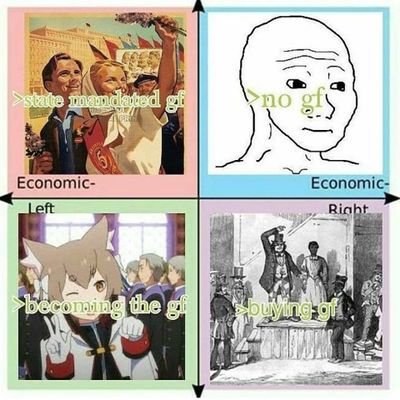 Sexual Marxism is a loosely-defined concept used by some incelism-oriented cybercels that usually dwells on the "redistribution of sex" in a timeframe shorter than the thousands of years of evolutionary time required to change people's natural sexual proclivities. Sexual Marxists tend to advocate for an egalitarian "redistribution of sex", where everyone gets sexual access, and no resources are transferred from men to women. See the Complimentary Heterosexual Affections Directive as a proto-sexual-Marxist idea.
It is important to note that Marx never proposed any sort of explicit incel-assistance so this term is mostly used tongue-in cheek. Many consider true Marxism a bit hostile to incels due to it's absence of a position on the incel issue. A more proper term would be a term never used: Incel Fourierism, as the socialist who proposed direct incel-assistance was Charles Fourier the founder of utopian socialism, not Marx.
Full-on sexual Marxist ideas include:
covert government program to societally brainwash people to make incels more attractive to women. We already undergo a tremendous amount of cultural brainwashing and attribute that brainwashing to our "own choice". Sexual Marxism would just change what ideas are fed to people. Sexual redistribution discussions tend to hinge upon the topic of liberty.
Government funded prostitutes or escorts for incels
Mass legal rape and universal forced monogamy (incel wiki does not recommend or condone this)
Culturally encouraged volunteer corps of women to sex up incels (although this idea came from Charles Fourier, who predated Marxism, and founded utopian socialism)
Certain forms of Marxism, particularly though aiming at changing sexual desire, has been advocated in academia, and also by women, although not under the term, 'sexual Marxism'.
Those that oppose Sexual Marxism are neoliberals and sexual trad-cons. Some blackpillers have mixed feelings on sexual Marxism, as some seem to like the idea of legal mass rape, but everything else they tend to make fun of, or not dwell on much.