Jestermaxx
Jump to navigation
Jump to search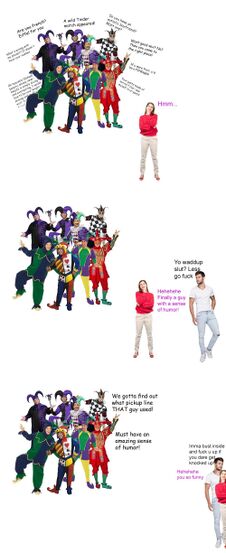 Jestermaxx or jestermaxxing is a term used in the incel community, most commonly to denote a man acting in an entertaining, amusing, histrionic or dramatic manner, or acting in a certain unnatural way, in order to elicit or maintain female romantic attraction or to be accepted in a group; the term is usually used in a derisive manner, implying that in most cases, jestermaxxing is degrading or futile or both.
Numerous people see any sustained attempt at courtship behavior as "jestermaxxing", on the theory that Chad supposedly does not have to play such games to get females' interest.
Note: there is a difference between being someone funny and jestermaxxing. On the one hand, being funny does not mean one has to act in a funny way to be liked by others; in this case, one is liked by others and independently acts in a funny way. Some cultures promote being jocose. On the other hand, jestarmaxxing is what one does when one is not liked by a person or a group, to compensate not being liked and to hopefully be allowed to stay around others.
Make self-deprecating jokes
Accept being the butt of most jokes
Accept being bullied, and openly laugh about it ("haha, you stole my lunch, you're such a meanie bro :)")
"Delusional boomer is still stuck in the tar pit of his bluepilled ways after all that the blackpill has taught him smh. I hope his soul doesn't completely shatter after his desperate attempt at jestermaxxing blows up in his face"[1]