Tinder
Jump to navigation
Jump to search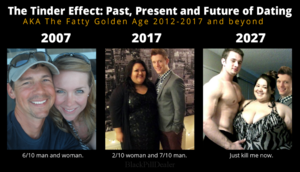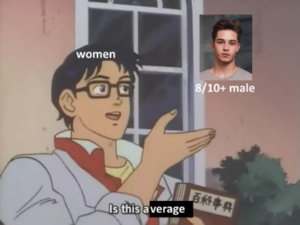 Tinder has been blamed by some members of the incelosphere for propagating, entrenching and enhancing the blackpill due to its ubiquitous focus on appearance, money-grubbing developers, and absurdly hypergamous female users. Tinder is arguably partly responsible for the state of the incel communities as of 2019, and with a few other dating apps, is the main catalyst for people joining incel forums. It is largely an app for fast life history strategists looking for casual sex with only 33% of users who have dated through Tinder getting a committed relationship out of it and the rest engaging rather in casual sex.[1] If you're male and your match rate on Tinder is 10% or higher (even if it's all ugly girls who matched you) it means that you are VERY GOOD LOOKING. Almost everyone else gets no matches or gets ghosted.
Actual average men get a match rate of less than 1% on Tinder (0.87%)[2], while virtually any woman can choose from a pool of men to get a date whenever she wants on Tinder.
A study found out that "the bottom 80% of men are fighting over the bottom 22% of women and the top 78% of women are fighting over the top 20% of men", on Tinder.[3] Because women are sexual gatekeepers their preferences decide the dating scene.
The same study of Tinder found that Tinder's GINI coefficient between the genders was on scale with the income inequality of third-world countries (see chart below).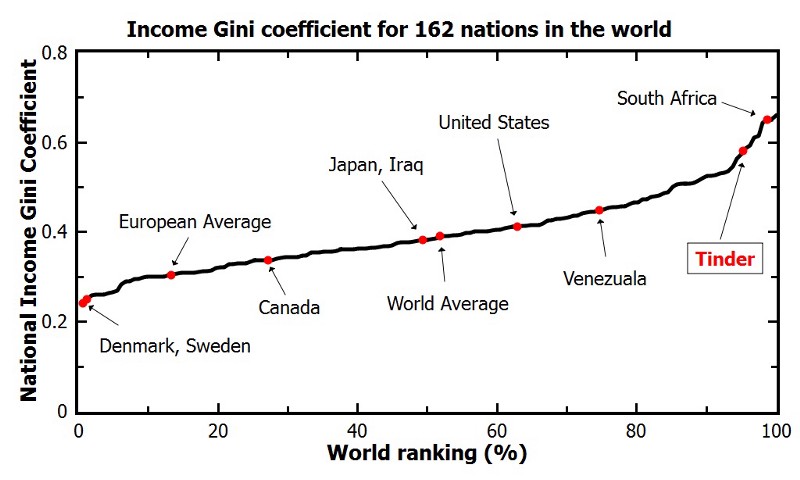 Various media personalities have recognized that women on Tinder completely ignore a large pool of men in a way that isnt seen in the reverse, including sexologist Kristin Spitznogle, popular leftist vlogger Contrapoints, and podcaster Dick Masterson.