Women-are-wonderful effect
Jump to navigation
Jump to search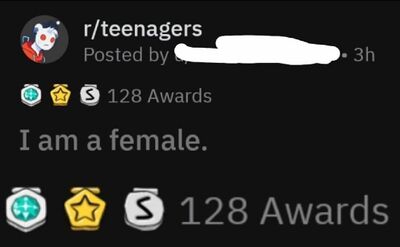 The women-are-wonderful effect (WAW) is the phenomenon that people associate more positive attributes with women than with men. The phrase was coined by researcher Alice Eagly and Antonio Mladinic in 1994 after finding that both male and especially female participants tend to assign positive traits to women.[1][2][3] Women themselves find women even more wonderful than do men; in fact, the tendency to give members of one's own sex more positive evaluations, i.e. in-group preference, is 4.5 times higher in women.[4]
Women are actually worse in many regards
[
edit
|
edit source
]
Women are frequently regarded as more empathetic, less violent, more nurturing, loyal and nice etc., science has found women to be actually worse than men in many regards. For example:
In other regards women are mostly about as good or bad, not worse, than men. For example:
Female scientists were found to commit scientific fraud just as often as male scientists,[26][27] but this result may be confounded by women having less agency over research decisions.
Women are actually not consistently more empathetic.[28]
Indirect aggression among adolescents.[29]
Spite, e.g. willfully burning others without self-interest nor altruism in economic game.[30]
In short, women are on average just as bad as men, and in some regards even worse, especially regarding their completely useless intrasexual competition which only gives rise to drama and competition in looks, whereas men's competition has brought us science and civilization. It's only that women have a lower activity level, lower physical strength, and greater parental investment, and thus get less things done and thus do less of the bad things, intensifying the apex fallacy that men are generally worse, while in truth men also do more of the good. Since these differences only concern the averages, however, this does not mean that all women are worse than all men, or that women are inferior humans or second class people, just that they have many weaknesses on average, contrary to what is commonly assumed as per WAW effect.
The authors suggested that the bias comes from the association between women and nurturing characteristics, that their women's nurturing is seen as inherently positive and indulgent.
The in-group bias, i.e. women regarding each other as (a lot) more wonderful than men, may derive from female neoteny, namely their childishness evoking mothering adaptations in other women.
It may also come from men having selected women who stick to themselves (and stick fingers into each other) and find other men uninteresting. This helps men to avoid getting cuckolded. This is why women are seen to form flocks and spend time with each other on the toilet etc.
The women-are-wonderful effect might also be related to women's tendency to rate men's physical attractiveness as worse, which might be born from an inclination to avoid initiating a relationship and hence bearing the responsibility, making it extraordinarily easy to quash unwanted sexual approaches.[31]
Conversely a better evaluation of women by men may stem from men being more strongly drawn to women than vice-versa due to Bateman's principle, expressing in a higher male sex drive.
With runaway virtue signaling due to the prevalence of feminism lots of men are pressured to be nice to women which possibly only increases their sexual frustration, making them virtue signal about women's superiority even more.
An evolutionary explanation for women being actually worse in almost all regards may stem from the fact that they have reproduced twice as reliably, so they have been subject to less evolutionary pressure, so women are in that sense more inbred, less honed by nature. Men are nature's experiments, women are mere selectors. This might explain why women's sexuality also seems to be stuck in a more feral past. It has not evolved much since then as most women have reproduced no matter how they acted.