Neurotypical
Jump to navigation
Jump to search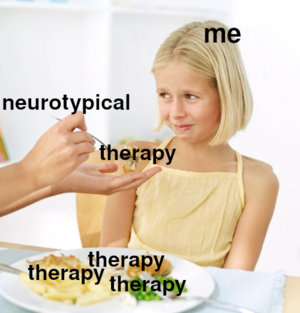 Neurotypical or "NT" is an adjective describing someone not being characterized neurologically atypical patterns of thought or behavior, such as autism. Most of the time, it is used in incel communities to designate someone who is not on the austism spectrum or is not horribly shy.
Neurotypicality is somewhat correlated with sexual success, more so in men than women.[1]
The opposite of a neurotypical person is called a neurodivergent or neuroatypical person.