Decile
Jump to navigation
Jump to search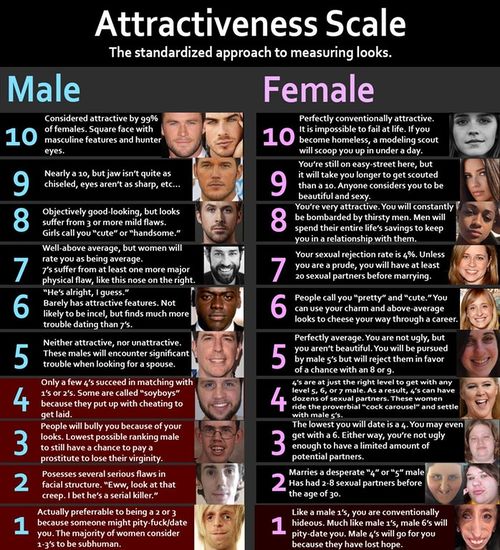 The decile scale is a scale almost everyone uses to rank looks. The decile scale goes from 1 to 10.
It's not at all a "crazy incel invention" as scales for rating attractiveness have been around for at least a century[1] and calling someone a "nine" or "ten" is extremely common lingo.[2] The decile scale was popularized by the shitty film "10" in 1979[3] and by the rating website "Hot or Not" in the 2000s.[4]
In common usage, the decile scale is only about looks as people care the most about looks in a potential partner at first[5] and even though looks are at most only weakly related to other desirable traits.[6]
People often disagree whether someone is a 5 or a 7, but they agree more about who is a truecel.[7] Nonetheless, a 5 will always be in the 5th decile when averaging many ratings.
Another scale is the (unecessary) PSL rating scale which goes from 1-9. The "advantage" of an odd-numbered scale is a middle option, but it just ends up confusing everyone. Therefore hardly anyone uses the PSL scale.