Fakeup
Jump to navigation
Jump to search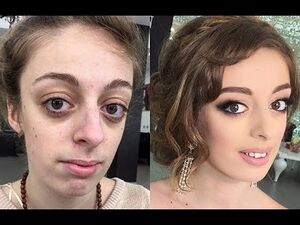 Fakeup or war paint, more commonly known by the euphemism makeup, is the main looksmaxxing strategy used by sexual gatekeepers to date above their looksmatch. Sluts use makeup to outcompete other women in getting the attention of Chad, basically by accentuating their neoteny and smoothness.
Traditionally, makeup had mainly been used as an identifier during war and was associated with raping and pillaging villages for resources and women. Today, femoids engage in mass psychological warfare against peaceful nice guys to drain them of their resources, without giving sex in return.
Women's sexual strategy is more passive/coy and consists in attracting men by conspicuous advertisement, whereas men's strategy is to actively seek out and compete for women. For this reason, women compete by aesthetics and use makeup. This is amplified by the cosmetic industry selling and advertising a vast range of products designed for this purpose.
Men who use makeup are easily regarded as gay or trans because attracting a partner by looks is a more feminine activity, even though looks matter for both sexes. Men might also become envious of men evading their way of competing for women by aesthetics, especially in highly utilitarian modern societies, where men rather invest in competence than beautifying themselves.
Outcry about makeup removal apps
[
edit
|
edit source
]
In 2017, a 28-year-old Brooklyn-based entrepreneur named Ashot Gabrelyanov created a mobile app called MakeApp that allows to remove (or add) makeup from faces. The result was major confusion and outcry among women in social media.[1]