I love to travel
Jump to navigation
Jump to search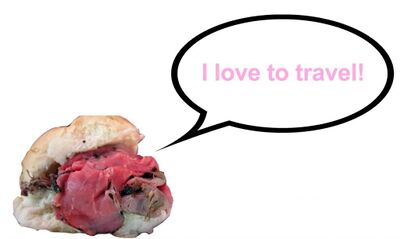 I love to travel is a meme in the incelosphere about Beckys traveling the world, usually under the pretense that they "want to gain new experiences" and find their "soulmate". If evolutionary psychology can tell us anything, though, women should be particularly inclined to immediately attach to the next best Chad when surrounded by new males, either when men intrude or the woman gets carried away.[1] Indeed, one observes that women moving to a new place are particularly "easy" possibly due to the new environment and lack of other females who could spoil their fun by gossip. For example freshmen women are particularly easy.[2] But they'll clench up the moment nasty female friendships form. So female traveling in truth amounts to outright Chad sex tourism.
In part, women's fake fascination with traveling can also be explained by their rape fantasies. In the 1970s after their sexual liberation, women engaged in sex tourism through southern Europe, e.g. Spain, only to be practically raped by a bunch of Chad's over the course of several weeks.[citation needed] Women secretly love this kind of threat as a famous feminist Camille Paglia admitted:
Part of the thrill of sex for a woman is the danger of it—the fact that she is risking rape.