Work on yourself
Jump to navigation
Jump to search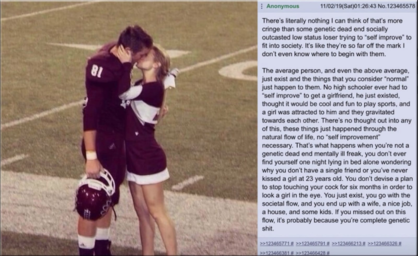 "Work on yourself", "improve yourself", and "improve your life" are amongst the most common and annoying platitudes that are spewed by normies and chadsplainers.
Working on yourself gives no indication as to what your goals should be, or what the end result should look like. It's a subjective platitude.
Who works on himself the most? Probably those that can't get women. Because the only thing that indicates if you should work on yourself or not is if you have a woman by your side in the first place.
This philosophy pushes people (especially young ones) to find themselves in the world and achieve fulfillment through 'spiritual work'. This is why so many normies travel around the world, especially to east asian countries. Hiking on mountains and giving yourself silly tattoos is somehow supposed to elevate yourself spiritually. According to the blackpill doctrine, you do not matter, your inner world does not matter, the only thing that matters is to become a Chad.