Black incelosphere
Jump to navigation
Jump to search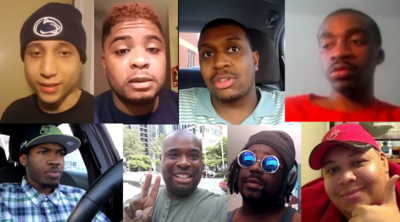 The Black incelosphere is the collection of people of sub-saharan African heritage who vlog about their inceldom on Youtube. Most Black incel YouTubers are retired or roped so you can watch a lot of their old vlogs on The YouTube channel called: "You wouldn't like me when I get gutta". Other Black incelosphere figures include Lone Wolf87, who is currently active.
Most Black men on YouTube that theme their videos around wanting sex/romantic-partnership but not being able to find anyone to date are connected to the TFL, or, "True Forced Loneliness", universe. But at this point, the TFL and incel communities are more or less the same thing. Themes within TFL communities are often similar to those found in ethnicel vlogging communities.
Another sub-group of Black MGTOW that call themselves IBMOR (introspective Black men of reform) hosts majority of Black men that participate in intellectual discussions and debates relating to the Black community. They are not listed in the picture above. An IBMOR vlogger named VVS eventually started doing incel anonymous incel vlogging in November 2018. However, IBMOR is not technically an incel community as it does not self-identify and it is politically oriented.
It is theorized that Black incels suffer more than white incels (JBW theory). Incel rates of Blacks seem to have increased faster among high school students compared to Whites, but Blacks or Latinos do not seem to be overrepresented on incel boards nor at universities (see Demographics § Race).