Michel Clouscard
Jump to navigation
Jump to search
Name:
Michel Clouscard
Date of Birth:
August 6, 1928
Occupation:
Philosopher/Sociologist
Ethnicity:
French
Michel Clouscard was a French Marxist sociologist who constructed a leftist critique of the sexual revolution (his writings chiefly being concerned with the values promoted by the May 1968 French student movement), arguing it was a tool of the capitalist class, that they used to distract the working class from their economic poverty by promoting a range of romantic choice not within the reach of most of the working class.[1] Clouscard also indirectly criticized feminism as consumerist and a distraction through his critique of the sexual revolution. Unlike Michel Houellebecq, Clouscard had very little to say about sexual stratification; however Houllebecq was likely heavily influenced by Clouscard.
Clouscard is most known for this quote, which is quite poignant with regards to inceldom (among other things):
All is allowed, but nothing is possible. The permissiveness of abundance, growth, new models of consumption, leaves the place to interdiction of the crisis, the shortage, the absolute impoverishment.

—Clouscard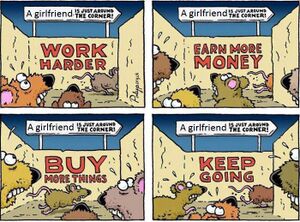 Criticism of the Sexual Revolution
[
edit
|
edit source
]
Clouscard described the liberalized sexual marketplace being chiefly the domain of what is known is classical Marxist theory as the exploiter classes, namely the bourgeois and the Capitalists. In contrast to other leftists of his era, Clouscard focused on classical materialist Marxist economics, and viewed the values pursued in the sexual revolution and the French student uprising in May 1968 as a distraction from the economically driven class warfare typically examined by classical Marxist theory. Clouscard also argued that sexual liberalism has effectively served to divide the working class against itself (by agitating women against men, through labeling all men as oppressive "Phallocrats") in what he has dubbed "the prostitution economy."[2]