Hiding in My Room
Jump to navigation
Jump to search
Name:
Hiding in My Room
Date of Birth:
March 20, 1989
Occupation:
Youtuber/Self-Employed/Leech
Ethnicity:
Half English Half Malayasian Chinese
Hiding in My Room also known as Daniel Lord is a vlogger/fakecel from Kent, England who was formerly on the inceldom spectrum but ascended after moving to Japan. After listening to a verbatim podcast of Elliot Rodger's biography/manifesto My Twisted World, 'Hiding in My Room' said he was "amazed at how his experience is similar to me" and that it was like "listening to my own life story being read out".[1]
Long story short, he's notorious for his disastrous life; oversharing his sex life on the internet, stretching videos to hit the 10 minute mark, dating older Japanese whores and catfishes (he was catphished by a 40 y/o married foid who was and still is fucking obsessed with him. She's insane and even goes onto saying she's pregnant with his kid), getting kicked out of his apartment due to arguments with whoever he's dating, and so on, and so forth. He's currently single, spending most of his days doing nothing and leeching of his mum, who he lives with in England.
A majority of people in forums about Daniel say if it weren't for how frequently he has sex and talks about it, he would be an incel. They aren't wrong; his videos genuinely look like he's taken the redpill and most incels can somewhat relate to him, too. A chadlite in the making.
And if it weren't for his accent, he'd be a solid 4/10.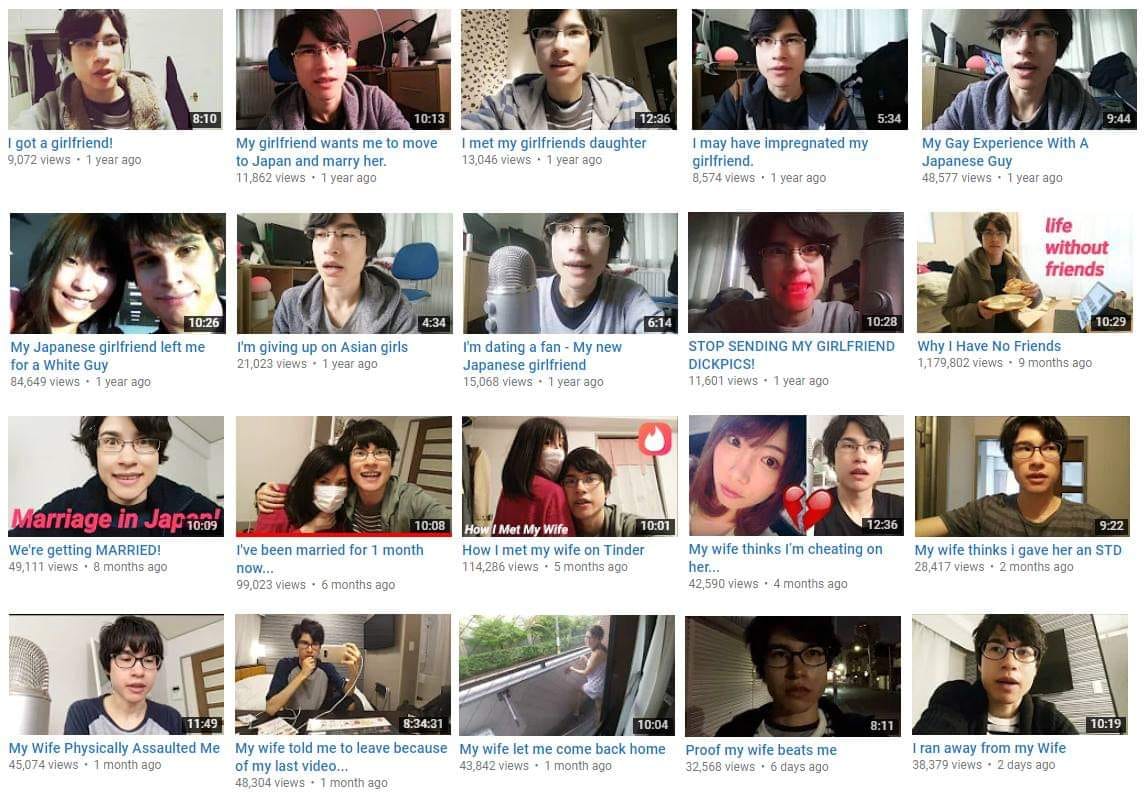 There are those who can relate to him and there are those who hate him. However, both parties have a thing in common and that is to ridicule his life and treat it as if it was an anime. His life is basically divided into several story arcs.
Major Arcs:
Japan Arc (moved to Japan, got his dream job and lost it, got married and along with it STDs such as chlamydia)
England Arc (visits his hidden leaf town once in a while)
Daddy Arc (covers his dad's backstory and Daniel's early childhood)
Germany Arc (travels to Germany to date a girl while married)
Divorce Arc (this arc begins at the late Japan Arc, goes over the England and Germany Arc)
England Arc 2 (after the divorce, he returns to England and briefly gets with a young Dutch Girl)
Minor Arcs:
Clickbait Arcs (mostly filler episodes that seem relevant at first glance but aren't)
Rant Arcs (he rants about countries, food, relationships and other things that support the main storyline)
The Divorce Arc has been built up for many months and is currently the longest arc in the series. It all started when Daniel was telling the world about his wife having regular yeast infections. Besides oversharing his sex life on Youtube, he also did not hesitate to inform his viewers on how well he was doing on Tinder while being married. As a result he has been permanently banned from Tinder.[2] Furthermore, Daniel was having ideas about an Australian Guy banging his wife.[3] During the Divorce Arc the Australian Guy has been a reoccurring character who is believed to be the main rival/antagonist of the anime.
After a short timeskip Daniel left Japan and returned to England with his wife, allegedly introducing the England Arc. Instead of trying to improve their relationship, it has become worse. Daniel kept ranting about his wife on Youtube which got him and her into a lot of arguments. They have decided that their relationship was interpersonally but not officially over. As soon as Daniel sent her the divorce papers he began to look for a new girlfriend via Youtube.[4] He is still married and did not wait for his wife's consent. That's when his wife took advantage of the circumstances. She declined to sign the divorce papers and now wants to sue Daniel for cheating on her.[5] Daniel is upset about his wife's complaining and refusal but it did not stop him from traveling to Germany to date a girl. Much to his disappointment it did not work out well.[6] He feels trapped by his wife as the divorce is being delayed once again.