BBC theory
Jump to navigation
Jump to search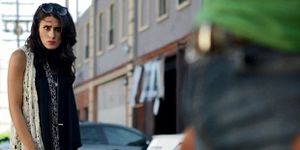 BBC Theory, or Big Black Cock Theory, claims black males have an advantage over other races of men in seducing women because black men have BBCs (Big Black Cocks) and dickmog all other races. In reality, a large penis (or, more importantly, a large BBC) is the only way white women can really conceive of black males as a sexual option, since white women are naturally attracted to tall, athletic, longer-haired white men.
Many redpillers often subscribe to this theory while many purplepilled people often criticize such theories and argue the opposite is actually true. And that racial bias actually harms minority men.
Arguments in support and against BBC Theory
[
edit
|
edit source
]
Bald white men are almost without exception incel, whereas bald black men with a shaved head do not lose their attraction potential.
Black men are more extroverted than white men, making women more comfortable around black men[citation needed]
BBCs are not perse larger than white cocks, and are therefore not more pleasurable to women[citation needed]
Most Black men don't have BBC according to statistics (however there are studies demonstrating a small increase in the mean penis size compared to other races, a small difference in the mean of a group leads to greater extremes at the tail ends of the standard distribution.)
White women aren't very fond of black guys regardless of their schlong
Ok Cupid/Tinder Data showcases that contrary to what some Caucasian Incels would have one believe; out of A pool of Women (All Races Included) the black man will be almost 2 times as likely to be swiped left on, regardless of facial composition, body size, and inherent wealth. Really only the black men at the top of the social pyramid are able to compete with the Average white male.
United States government study
[
edit
|
edit source
]
According to a U.S. government study, sickle cell, a rare disease which is more common under black people, caused a "significant penile enlargement" in one patient.[1] Self induced priapism is commonly advocated as a penis enlargement technique on penis extension forums. Thus, the BBC phenomenon may be primarily caused by the penis enlargement resulting from priapism episodes related to sickle cell anemia.
In an episode of Blackpill 101, BBC theory was analysed by looking at several studies:
---
This page, created on or after 2018, initially and currently uses 2016/2017 text from
Redpilltalk Wiki
previously known as SluthateWiki. Borrowed material has been altered. Text has been deemed
Fair Use
for this non-profit wiki. Unchanged text is credited to the authors of the 2016/2017 RedpillTalk wiki page
here
.