R/Cuckold
Jump to navigation
Jump to search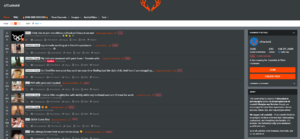 r/Cuckold is a subreddit dedicated to candaulism i.e. to sharing experiences of husbands willingly being cuckolded by their wives. Most posts are pictures or short clips of a wife having sexual intercourse with another man in front of her husband. Users are overwhelmingly white men sharing their spouses with black men.
The subreddit was created on February 27th 2009. As of October 2019 it had over 250,000 subscribers.
Cuck: the husband willingly being cuckolded.
Hotwife: the wife cuckolding the husband.
Bull: the man with whom the wife cuckolds the husband.
Bull Prepping: when the cuck engages in homosexual acts with the "bull" in order to sexually prepare him for intercourse with the wife.
Watching Chair: a seat the cuck uses while observing the "bull" engaging in coitus with his wife.
Cuckshed a shed or similar building, typically separate from the primary domicile, where the cuck waits while the "bull" is busy ploughing his wife.
The cuckold terminology is often satirically used by members of incel communities to mock lower status bluepilled males.