Looksmaxxing
Jump to navigation
Jump to search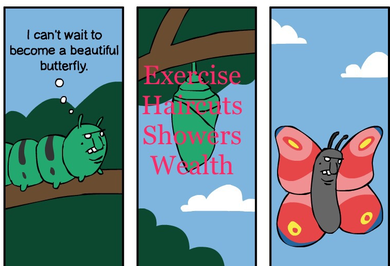 Looksmaxxing is any attempt at improving one's appearance. The majority of women have been looksmaxxing from an early age, e.g., regularly using make-up.
Some forms of looksmaxxing are mild (such as getting a haircut, using minoxidil and grooming eyebrows), however there are also more extreme forms of looksmaxxing such as plastic surgery and using anabolic steroids.
The most controversial practise postulated by some ethnicels includes whitemaxxing.
In-depth description
In the looksmaxxing community, having a lean body and a full head of hair are considered the most crucial features to look good as a male. Skin quality is another important trait and can be improved by fixing acne, increasing collagen or moderate tanning. As regards the facial bone structure, forward growth (opposed to the unattractive downward growth) is considered the key to have an attractive face. This feature can be improved with procedures like Jaw surgery and genioplasty.
SoftMaxxing
Softmaxxing is a subset of looksmaxxing that concerns non-invasive and cheap methods to improve one's looks. Examples of softmaxxing are:
Hard looksmaxxing
Hardcore Looksmaxing involves more invasive or hazardous methods of enhancing one's physical appearance. Examples would include:
Controversial looksmaxxing methods
In the Looksmaxxing community other less popular methods are also discussed, that many deride as pseudo-scientific or unproven, such as:
Surgerymaxxing
In looksmaxxing communities it is commonly argued that, much of the time, in order to ascend, ugly men need to undergo plastic surgeries. The least invasive surgeries are otoplasty, rhinoplasty and facial implants (often chin/jaw implants), which are able to fix minor facial flaws, however this might not be enough for men who have recessed facial bones: in these cases Maxillofacial surgery is often argued to be the only way to substantially improve their facial appearance.
Community
Looksmaxxers discuss their methods in different forums
Alternatives to Looksmaxxing
In the incelosphere Looksmaxxing is the main form of Deincelization, however some users propose other ways to escape inceldom like Moneymaxxing and increasing social reputation (Status). More uncommonly, some advocate radical practices like trannymaxxing (i.e. becoming a male to female transgender)
See Also